Viper 640's at Mardi Gras Race Week!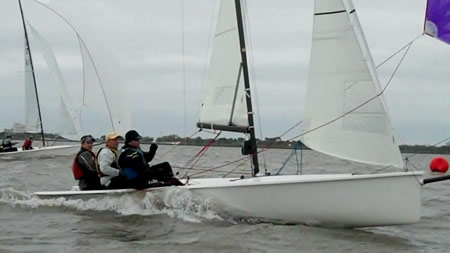 I was able to spend a few minutes with Tom Peterson the winner of the recent Mardi Gras Race Week down in New Orleans. Tom and Wisconsin crew sailed a great event and won the 15 boat Viper 640 class. I also sailed and managed a disappointing 6th place. More on that later. Tom sailed very consistently and was pretty dominate on Sunday in very tricky conditions. Tom was kind enough to answer a few questions about the event and how they sailed.

The conditions were tricky and in fact we did not get a chance to sail because the breeze was blowing between 25-32 on Thursday and with gigantic chop. Friday was also blown off due to the conditions. This really hurt our team as I just do not drive enough any more and I was not very good. We also had a crew member who did a fantastic job but had never sailed the boats before.
Tac: Great job at Mardi Gras, can you give us the names of your crew and how the responsibility of each crew broke down?
Tom Peterson:
I brought a great crew down and guys I have sailed with since juniorsailing. Mike Blackwood who was in the middle and really help with tactics and overall trim. Mike has won a Snipe North Americans and a couple of 210 Nationals Championships. Mike Sabinash was up front and did the jib trim and got us around the corners. They did a fantastic job!
TB: Who was in charge of ensuring boat call was made while in the French Quarter?
Tom: As for the French Quarter, I can only remember bits and pieces so I am just gladwe made it out alive!
TB: We know that you used our standard Polyester Flex Sails and our Full radial spinnaker. Can you talk about the tune that you used? How similar to the tuning guide do you think you were?
Tom: Our tuning for the regatta was fairly close to the tuning guide. This was our 2nd regatta, the NA's in Sarnia was the 1st, and I am still trying to get a feel for the tune in different conditions. We did, however, adjust our rig tension between many of the races. We really were trying to keep as much power in the boat as possible mainly due to the chop.
TB: How did you feel your overall pace was both upwind and down wind?
Tom: Our pace upwind was really good. There was only a couple of boats that we felt could match us uphill. The sails are easy to trim and looked good across all the wind conditions, especially day one when the conditions really changed. Downwind was really a mixed bag for us and that has nothing to do with the sails. We struggled with boat handling and gave away a couple of leads which was frustrating. The second day was much better.
TB: Having been there sailing against you guys what did you do to get through the wicked starboard tack chop?
Tom: We talked about the chop all weekend! It was really very similar to our Southeaster in Milwaukee which is our prevailing summer breeze. We really tried to focus on boat speed vs. point all weekend and it seemed to payoff. That is a lesson we learned from sailing Snipe's and the Viper is just a big dinghy!
TB: I know that some of the guys had a bit of trouble in a sailing fast and deep mode down wind. From what I remember you did quite a nice job kicking my ass a few times. What were you guys doing?
Tom: We had our moments downwind but to be honest we struggled at times. This is my first sport boat and getting the feel for the angles and when to heat up and dig deep is still a work in progress. We did improve day two, mostly due to slowingdown the rudder movements and letting the boat drive itself down in the chop.
TB: What are other events do you have on the schedule for this season? Any updates you will be doing to stay in the front of the fleet?
Tom: We are going to Charleston and most likely the NA's in Marblehead. I am also hoping to get to some smaller regional regatta's in Detroit and Sarnia. At this time we don't have many boats on Lake Michigan so we have to travel but hopefully that will change soon. Staying in the front of any fleet is a difficult task all we can do is put time in the boat. A new set of Doyle/Boston sails will also help.
TB: Are you now worried you are a marked man?J
Tom: I don't think we are quit marked men but I know I would rather be the guy no one pays attention too on the course:)
TB: Great job done but Tom, Mike and Mike, they sailed very consistently and managed to keep themselves out of trouble. Congrats to the three of you and thanks for representing the sails in a very positive way!
Next up for DBS is an S2 7.9 event down in Sarasota, Brad is sailing with Radio Flyer and Tac will be on Rooster Tail. After that weekend Tac will be sailing with Jim Pearson at the Naples Porsche Cup on his new Audi Melges 20. This will be the first chance to see how the first generation sails look against a couple other 20's.
Charleston Race Week 2011
Charleston Race Week 2011 was held April 14-17, 2011. Brad Boston's Jackpot won the Viper 640 class, a strong 25-boat fleet, and went on to win the Charleston Race Week Trophy. The Charleston Race Week Trophy is awarded annually to the skipper who wins in the most competitive one-design class. This is the second year in a row that Doyle sails have won the Charleston Race Week Trophy
In the Ultimate 20 class, Doyle customers came in 1st and 3rd. Jim Pearson's Slippery won the class and Peter Marriott's Zulu came in 3rd.
2011 Sperry Top-Sider Charleston Race Week is an event of South Carolina Maritime Foundation and Charleston Ocean Racing Association. All profits from the event support educational programs aboard the Spirit of South Carolina, a traditional tall ship serving South Carolina's youth.
For more information on Doyle Viper sails, http://www.doyleboston.com/products/racing/one-design/viper640.html
For more information on Doyle Ultimate 20 sails, http://www.doyleboston.com/products/racing/one-design/ultimate20.html
Or for either class contact Brad Boston at 519-344-5236, brad@doyleboston.com.
Doyle Boston Sails announces new Website!
As you can see we have totally revamped our website to add a few things, like video and a much more user friendly for us to keep the page updated. Our old site was set up in such a way that we could not easily update the site and keep you all informed as to what we have had going on. In that last year our sails have had great success on water, this is due to our great design team, the incredible job that our employees have done building the highest quality sail you can buy and of course our awesome customers that make us what we are! Thanks to all of you.
Doyle Boston Sails and Doyle NZ announce a strategic design partnership.
Over the past year we have also work more closely with Richard Bouzaid, Doyle Sails head designer and Team NZ designer, to further refine our sail designs in some of our bigger projects. Richard knowledge of our sail design software along with its aero package has taken our sail designs to the next level. Spike continues to be our head designer here in house but by having the extra tools that Richard brings to the program we have really stepped up to the next level.
On the construction side, we have been building a mixture of Doyle Stratis Membrane sails and Dimension/Polyant's D4 MP Membranes to give us the best one two punch on the market. To see a bit of the Stratis production method check out the Stratis section of the web page.
Doyle Boston Sails Dominates the 20' Sport boat market
Doyle Boston Sails is the unparalled leader in the 20' Sport boat market. Our great success in the Ultimate 20 fleet over the past 6 years lead us into the most popular 20' Sport boat on the market, the Viper 640. We have been in the Viper fleet for just under two years and have taken the fleet by storm! Our sails have won every major regatta the fleet has sailed! Bacardi Cup, check, Charleston Race Week, check, HPDO, check, CORK, check, Long Beach Race Week, check, the EFG Pan Am series, check and of course the North American's, check check, (back to back NA's titles for Team Jackpot). Most of the top events we had at least 2 of the top 3! Not to bad for the new comer in the fleet. We have continued our winning ways in the U 20 fleet as well. Jim Pearson won the North American's this year out in Colorado. That was the 6th consecutive NA's for our sails.
Here is a short list of major One Design wins this year for our sails.
St. Pete NOOD regatta, Ultimate 20 fleet 1st, 2nd, 3rd, 4th, S2 7.9 Fleet 1st, 2nd, 3rd.
Charlotte Harbor regatta, Viper 640, 1st and 3rd
Bacardi Cup, 2010 North American's, Viper 640 1st, 2nd, 3rd
Charleston Race Week Viper 640 1st, 2nd, also One Design Boat of the Week!
Long Beach Race Week, Viper 640 1st
Detroit NOOD, Viper 640 1st, 3rd. S2 7.9, 2nd, 4th. Ultimate 20, 1st.
Sarnia One Design Regatta, Viper 640 1st-6th, Ultimate 20 1st-5th, S2 7.9 1st-6th
CORK, Viper 6401st, 2nd, 5th
HPDO Regatta, Viper 640 1st, 3rd
Viper 640 EFG Pan Am Series, (Bacardi Cup, CORK and HPDO) 1st, 2nd
Dillon Open Regatta, Ultimate 20. 1st, 2nd, 3rd
Ultimate 20 North American's, 1st, 3rd, 4th
S2 7.9 North American's, 1st, 2nd, 4th